You can help in the conservation, stewardship and recovery of Hawaii's protected marine species and our important ocean ecosystem.
Are you interested in joining one or more of our volunteer teams? We offer fun and rewarding experiences working in the field to support Hawaiian monk seals, sea turtles, seabirds and our shared ecosystem.
We also have other great ways to help out by joining our Education & Engagement team or our Dispatch & Reporting teams.
To help on any of these volunteer teams, there is a 4-step process:
(1)  Please complete the online volunteer application form HERE. You cannot attend the orientation class until you have completed a volunteer application and the required pre-work and quizzes (further information below).
(2)  After you have completed the online application, you will need to spend some time finishing some pre-work reading and quizzes so that you are equipped with all of the information you will need to be an effective volunteer and be ready. To find out what pre-work and quiz(zes) you need to complete, please GO HERE. The pre-work needed is dependent on which HMAR program(s) you wish to participate in. You will need to do the pre-work, take and pass the necessary quiz(zes) with a score of 90% or higher before you can attend the orientation class.
(3)  Once completing your pre-work and passing any needed quiz(zes) with a 90% or higher result, you may attend our orientation class. The next class will be on Tuesday, January 28, 2020. Classes start at 5:30 pm SHARP so please give yourself plenty of time for traffic.  Space is limited and you must RSVP to attend the class as they fill up quickly, but remember that your RSVP cannot be accepted until you have completed your application (see above), the necessary pre-work and taken and passed the applicable quiz(zes). PLEASE do not RSVP unless you have completed all pre-work and quizzes and you are sure you will attend the class.
(3)  Following the orientation class, we will set up your field training. That way, you'll be confident, effective and have the most fun possible while helping in species conservation and recovery.
DETAILS ON THE NEXT ORIENTATION CLASS
WHAT:  New Volunteer Orientation Class.  In this orientation, you'll learn about our organization's roles, activities and volunteer expectations. We'll also share some information about some of Hawaii's protected marine species and what it's like to be a volunteer for Hawaii Marine Animal Response. Reminder: To attend the class you must have completed all of the applicable pre-work and quizzes. To find out what pre-work is needed, please GO HERE.
WHEN:  Tuesday, January 28, 2020.  5:30 pm SHARP to 8:00 pm.  Please give yourself plenty of extra time for traffic.
WHERE:  HTDC Entrepreneur's Sandbox Building, Presentation Classroom. 643 Ilalo Street (this is in Kakaako). See picture of building and map below.
PARKING: There is metered parking on the streets around the building.  There is also parking lot C next to the building ($6 parking fee).
RSVP:  An RSVP is required as space is limited but PLEASE do not RSVP until you have completed the needed pre-work, taken the quizzes and passed with a 90% or higher score. Email your RSVP to training@h-mar.org and just say "I'm coming to the next orientation class and I have completed all necessary pre-work and quizzes with a 90% or higher score." When you send your RSVP email you will receive an automated reply that we have received your RSVP.  That will be your class confirmation and no additional email confirmation will be sent.
The orientation will run for about 2.5 hours including a short break. Please be on time. The session begins at 5:30 pm sharp so give yourself plenty of extra time for traffic and parking.
Here is a picture of the building where the training will be held: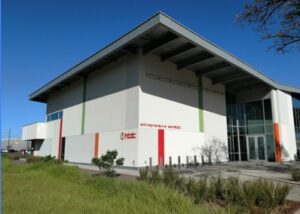 Here is a map showing the location for the new volunteer orientation class: