MONTHLY HMAR UPDATE: AUGUST 2022
Last month flew by! In our August HMAR report, we have updates for you on Koalani, sea turtles, interns, and more. Keep reading to check out everything about HMAR's month of August.
Number of Calls to HMAR – August total 474 (about 15 per day)
Our hotline operators were busy this month, taking 474 calls! Of these, 356 were related to Hawaiian monk seals, 100 calls were for sea turtles, and there were 18 calls related to seabirds. 
Number of Field Support Actions  – August total 361 (about 11 per day)
Our team members conducted 361 field support actions in August. A big focus was on our Hawaiian monk seal pups! At the beginning of the month, PO8, now tagged RQ58 and named "Koalani," was weaned by his mother, RH58 "Rocky," on Kaimana Beach in Waikiki. A thorough risk assessment was conducted, and it was decided that the best option for Koalani's natural development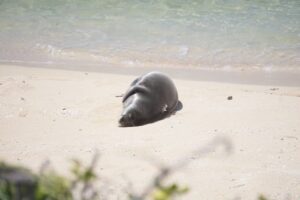 and safety was for him to be relocated to a new location. HMAR assisted NOAA in his relocation, and since then, our team has been with him each day (see picture left) to ensure his continued safety and health. He has been doing wonderfully in his new home! In addition to Koalani, on August 3rd, R016 "Right Spot" gave birth on Oahu for the first time! Her female pup, designated PO9 until she is tagged, has been named "Lehiwa" (lay-HE-va). We're excited to have Right Spot and her new pup on Oahu with us this year (see picture right).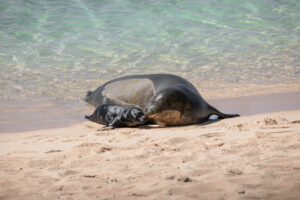 This pup activity, plus all of our other activities, consumes many hours of work each day from our dedicated volunteers, interns, and staff. Thank you everyone!
In addition to our monk seal field responses, sea turtle rescues, and seabird interventions  – we have been working on a project in cooperation with the U.S. Fish & Wildlife Service to search for and monitor sea turtle nests on Oahu's offshore islands! This is the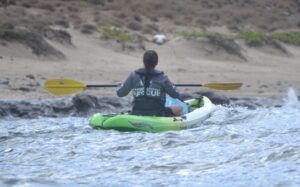 first time this labor-intensive project has been conducted (see picture left), and it's important work to determine where and how sea turtles are using the nesting habitat on these small offshore islands. This work takes many hours each week and is handled by specialized interns using HMAR kayaks as well as HMAR boats and crews to get out to these remote islands. 
Number of Rescues, Interventions, Stranding Responses and Escalated Field Actions – August total 25 (that's almost 1 every day!)
We conducted 25 rescues, interventions, stranding responses and escalated field actions in August. 4 of these were related to Hawaiian monk seals. 13 were for sea turtles in need, and 5 were to help seabirds. 
Here is a bit about our two of the most memorable sea turtle rescues in August. At the beginning of the month, right before our hotline closed for the day, we got a call about a sea turtle on the North Shore with a hook in its mouth (see picture below). Our responders arrived on scene and attempted to remove the hook.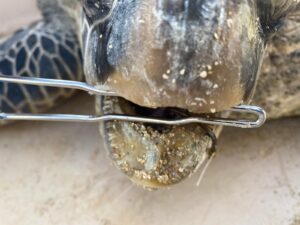 Unfortunately, they were unsuccessful but we were able to transport the sea turtle so that a NOAA veterinarian could remove the hook that evening.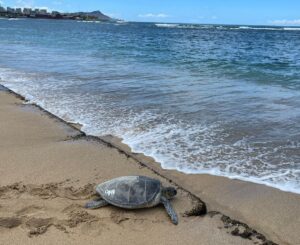 The next day the sea turtle patient was released back into the wild (see picture left). We love a good success story! [Sea turtle activity conducted pursuant to 50 CFR 222.310.]
Also, late in the afternoon one day last month, we got a call about a sea turtle wedged between two rocks. The sea conditions had been particularly rough that day, and the turtle had gotten stuck, unable to free itself! Our team immediately responded but finding the turtle was more difficult than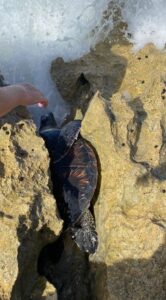 expected. The public callers had already left the area, and finding a turtle in a small crack was more difficult than we had expected (see picture right)! Thankfully our staff have eagle eyes, and McKinley was able to spot the turtle after a few minutes of searching. Using the force of the waves, we removed the very active turtle, who immediately started flapping its flippers, ready to go for a swim. When McKinley released this little guy, he booked it through the water and was out of sight!
Remember, if you come upon a sea turtle that needs help, please call us right away so a trained responder can assist if possible. Attempting to intervene without proper training, experience, and the necessary federal permit can cause injuries to the turtle, injuries to you, and could be a violation of federal and state laws. 
We also had some exciting seabird rescues this month! We had several downed brown boobies that we responded to, as well as a couple of wedge-tailed shearwaters. One of our most interesting seabird rescues was a brown booby at Kaena Point. The bird was resting about 3 feet from the edge of the rocks near the ocean and had a clearly injured wing, which was hanging into the tide pool next to it. We were able to carefully capture the seabird but it was very chatty during the process, and the bird was transported to the great team at Feather and Fur Animal Hospital in Kailua for treatment! 
Please call to report any Hawaiian monk seals seen, as well as any sea turtles, seabirds, dolphins or whales that may need help. The NOAA marine wildlife hotline can be reached at (888) 256-9840.
Marine Debris – More Great Results in August!
You may not know, but our marine debris team does more than just diving. Before August, our team had seven fishing debris collection bins deployed around the island at busy fishing locations. Fishers use these bins to collect their used line and hooks so that they can be recycled or disposed of properly. In August, thanks to a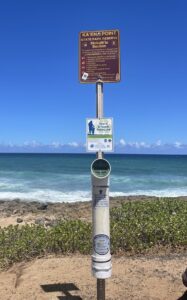 partnership with the State of Hawaii Division of State Parks, we will nearly double the number of bins on Oahu by adding 6 more – 1 at Sand Island, 4 in the Kaena Point State Park, and 1 at the Kaiwi Shoreline. We're excited to add these new bins (see picture left) and to continue to prevent derelict fishing gear from entering the ocean at the source. In addition, our underwater marine debris removal activity stayed as strong as ever in August. We completed 4 dives, cleared 7.3 acres of underwater habitat, extracted 1,606 feet of monofilament line, and removed 123 animal hazards!
Number of People Reached Through Face to Face Outreach – August total 2,915 people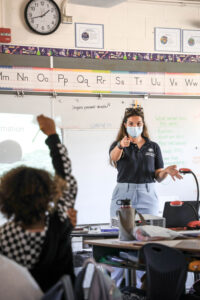 We reached 2,915 people with face-to-face outreach and education in August. The new school year is upon us, and our Education department is excited to start classroom activities again (see picture right).  We've started scheduling classes and have started our presentations.The first two classes we did were extra special. Two monk seal pups, PO8 and PO9, were both gifted their Hawaiian names. Waikiki Elementary's 4th-grade classes gifted PO8 his name, and after much deliberation, they decided on the name "Koalani," meaning "heavenly warrior". Kahuku Elementary's 5th-grade class gifted PO9 her name, "Lehiwa," (lay-HE-va), meaning "attractive" and "admirable." These students put in so much time, effort, and dedication towards gifting these pups their names, and we're so excited for what the future holds for these little seals!
Additional News & Updates
In August, we added some new interns to our team! The fall semester has brought four new interns to our ranks and we couldn't be happier to welcome them! Our interns work incredibly hard, each putting in 20 hours of work per week along with their classes and other jobs. So if you run into one of our interns, welcome them to the team. Are you interested in becoming an intern or know someone who would be? Head HERE to learn more about the program and to apply. Internships are an amazing opportunity to get your foot in the door in the marine sciences world. Not looking for such a large commitment? The same link takes you to our volunteer application! We have a new volunteer training class coming up in October so now is the time to apply!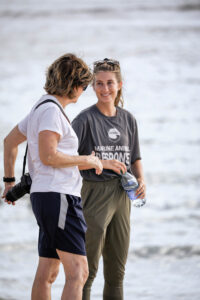 Thank You!
As always, we can't do the work we do without all of you! We rely heavily on public donations to pay for gas, supplies, staff, and all the other things we need to do our work. Marine animal response, rescue, and education is rewarding, but not inexpensive. If you want to support us, you can donate HERE and every dollar helps. Mahalo for your support!
______________________________________________________________________________
WHAT DO THESE NUMBERS MEAN?
Number of Calls – What does this mean? These are calls our hotline operators answer about any species in any situation. Whether it is a monk seal on the beach, a sea turtle of concern in the water, or a seabird that needs help. HMAR answers the calls that are made to the NOAA's marine wildlife number for Oahu and Molokai and we take calls from the public, from the police, fire department, Ocean Safety as well as State of Hawaii agencies. Any call that comes into our hotline is reported here. Some calls result in a field response but many are valuable for animal sightings information or other data that can assist in research. Since our start in 2016, we've taken over 47,000 calls.
Number of Field Support Actions – What does this mean? This is when HMAR sends volunteer or staff resources into the field to perform a variety of actions in support of marine protected animals including Hawaiian monk seals, sea turtles, sea birds, dolphins, and whales. Since our start in 2016, we have had volunteers or staff in the field over 22,500 times.
Number of Rescues, Interventions, Stranding Responses and Escalated Field Actions – What does this mean? This number includes any field response that goes above and beyond a typical resting monk seal response. This includes responding to a seal of concern, an entangled, hooked, or injured sea turtle, a seabird in need of medical support, and other situations. Since 2016, we have performed over 1,800 of these actions.
Marine Debris Work – Each week our marine debris team removes underwater entanglement hazards (net, line, hooks) from high fishing pressure areas to reduce animal entanglements, hookings, injuries and death of protected marine animals. Since we started our underwater removal activities, our Marine Debris Program (MDP) has removed more than 3,400 animal hazards, cleaned over 200 acres of underwater habitat, and we have collected miles of monofilament fishing line. Taking all of this debris out of underwater habitat helps save Hawaiian monk seals, sea turtles, and seabirds.
Number of People Reached through Face to Face Outreach – What does this mean? HMAR's different program activities put our volunteers and staff in direct contact with Hawaii's residents and visitors. Educating people about Hawaii's marine protected species and our ocean ecosystem is one of our highest priorities and has an important impact on reducing threats. This number includes outreach done on the beaches as well as the work our Education and Engagement team does going to classes and community outreach events. Since our start we've reached over 275,000 people.
Thank you for your continued support!