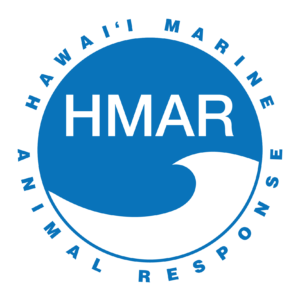 MONTHLY HMAR UPDATE: February 2023
February was full of pups, albatross chicks and so much more. Read on to learn all about our busy month!
Number of Contacts Made to HMAR Hotlines in February 2023 – 1,125 (about 40 a day)
These hotline contacts were broken out as 1,011 for Hawaiian monk seals, 97 for sea turtles, and 17 for seabirds. Keep up the great work HMAR hotline operators!
Number of Field Support Actions Conducted in February 2023  – 360 (about 13 a day)
HMAR volunteers or staff members were deployed into the field to conduct a variety of protected marine animal support functions 360 times in February. That was broken out as 1 instance in the north part of Oʻahu, 189 times in the east, 30 times in the south, 140 times on the west side of Oʻahu, and once on Molokai.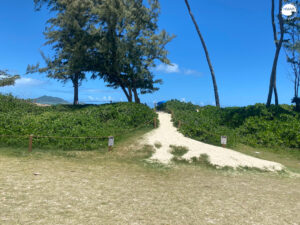 It's almost time for our wedge tailed shearwaters to return to their burrows for the beginning of nesting season. Before their return we wanted to make some improvements to the symbolic fencing at our Kailua Colony! We expanded the fence boundaries to allow more room for the naupaka and native plants to grow as well as removed some large debris and invasive species (see picture left). We hope to be able to continue making these changes over the next few years as the colony grows further. 
Uʻi update. Little PO1 isn't so little anymore! As you may recall from our social media posts, the first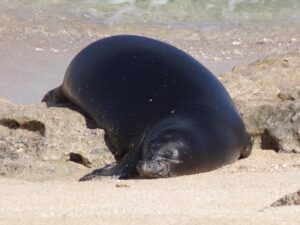 Hawaiian monk seal born in the main Hawaiian Islands this year, Uʻi mea aloa (Uʻi for short and meaning "beautiful survivor" in Hawaiian) has rounded the corner on week 4 and Uʻi is getting bigger and stronger every day (see picture right)! Since this is Kaimana's first viable pup we arenʻt sure when exactly she'll wean, but it will be sometime in the next few weeks. Until then we'll be keeping an eye on the both of them as they wrap up their time together before Kaimana heads out to forage and prepare for her annual molt. We will still be with Uʻi once mom leaves to continue monitoring and make sure she continues to grow properly!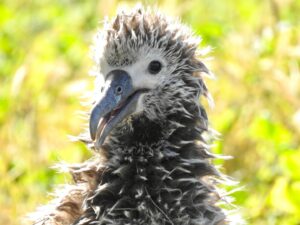 Thanks to our partnership with the U.S. Fish & Wildlife Service, the North Shore Community Land Trust, and the Turtle Bay Resort, the Laysan albatross colony we support on the north shore is continuing to thrive! It is one of our busiest years at the colony so far with 11 active nests with little chicks (see picture left). We are getting to the point where the chicks are not fully supervised by their parents and are beginning to become independent. In a few months these chicks will fledge and leave the nest for the first time to go out to sea and forage. 
Number of Rescues, Interventions, Stranding Responses and Escalated Field Actions in February 2023 – 15 (about one every other day)
We conducted 15 escalated field actions, interventions, rescues or stranding responses in February. This included 4 in-field operations for Hawaiian monk seals, 6 operations for sea turtles, and 5 operations for seabirds.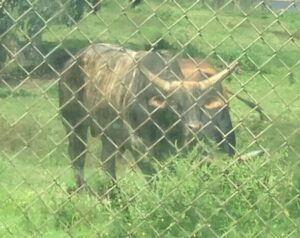 HMAR staff conducted a rather unusual rescue of a brown booby last month. We received a call of a downed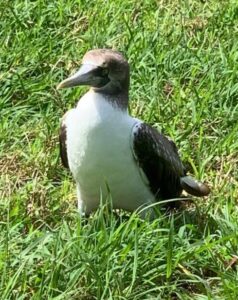 seabird in a field at a ranch in Waimānalo, and upon arrival we saw that not only was the seabird in the middle of a field, it was near two large intimidating rodeo bulls. Getting assistance from the ranch owner we were escorted through the field and safely rescued the seabird. A quick assessment resulted in us transporting this seabird to get veterinary support from our partners at Feather and Fur Animal Hospital.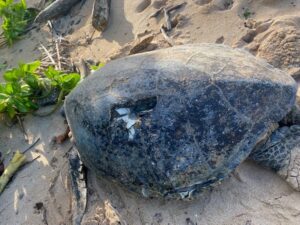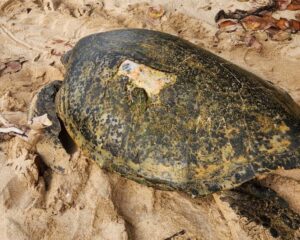 Towards the end of the month, we received multiple reports of a sea turtle on Laniakea Beach with a portion of the carapace missing (see picture left). This sea turtle had the moto tag MA260, and with this tag number we were able to determine this was a sea turtle that had suffered a boat strike that we rescued on O'ahu in January 2022 (see picture right). After our initial assessment when we originally rescued this animal, it was then moved to our partners on Maui for recovery. We were able to confirm that MA260 had been released on Maui after its treatment and she had found her way back to O'ahu and was exhibiting normal basking behavior! This is a great example of a success story in sea turtle conservation where government agencies, multiple NGOs, and members of the public work as a team to help our protected sea turtles.
If you ever spot a sea turtle with lettering on its carapace (shell) we encourage you to call HMAR on the marine animal response hotline at (888) 256-9840 and also complete the following online form to help keep track of our moto'd honu! Mahalo 
https://survey123.arcgis.com/share/605f9f3faca94769b755b7c889e6bbb0?portalUrl=https://maps.fisheries.noaa.gov/portal 
Marine Debris – Great February Results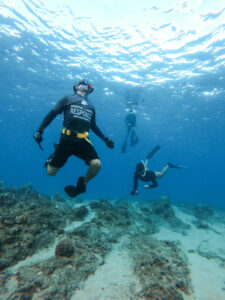 Even the crazy weather and winds this past month couldn't keep our Marine Debris Program (MDP) team out of the water! Over the course of 4 dives we cleaned up fishing debris that is most dangerous to Hawaiʻi's protected marine animals. We removed 1,776 feet of monofilament line, 39 animal hazards, and 21 hooks. All in all we cleaned about 6.5 acres last month. Join us on March 11th for a partner dive with Aaron's Dive Shop and Nudi Wear at Point Panic from 8-12. More information on our social pages! 
Number of People Reached Through Face to Face Outreach and Education in February 2023 – 1,970 people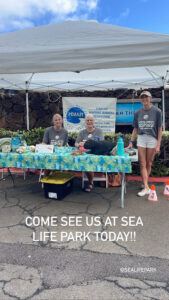 Last month was busy for our Education & Engagement Department! We had our first big public outreach event of 2023 at Sea Life Park's Keiki Day. Talking with all the locals and tourists is always such a great experience for our team to talk about Hawaiʻi's marine protected species! March is ramping up to be very busy with lots of classroom outreach before Earth Month in April! If you're interested in spreading the word about Hawaiʻi's marine protected species, sign up to join our EE team HERE!
Additional News & Updates
It's that time of year again! We are recruiting for our summer internships! Weʻre currently looking for applicants for our Field Support and Outreach (FSO) program and our Media internship. FSO interns spend the majority of their time with our Hawaiian monk seals on the beach providing outreach to the public about this special species. These interns also have the potential to participate in rescues and work with Hawaiian monk seal mom and pup pairs. Our media internship is for anyone with a creative mind for conservation and is truly what you make of it! Some of our interns are photographers, some are writers or content creators – whatever your specialty, this internship is right for you if you're passionate about spreading conservation messaging! You can apply for both of these positions HERE.
In March we are having our second new volunteer orientation of the year! If you are interested in becoming a volunteer with us, now is the time to apply. Volunteering is a great way to become engaged with the community and learn more about Hawaiʻi's marine protected species. To apply head over HERE to get started!
As always, we can't do the work we do without all of you! We rely heavily on donations to pay for gas, supplies, insurance, rent, truck maintenance, and all the other things we need to do our work. Marine animal response, rescue, and education is very rewarding but not inexpensive. If you want to support us, please donate or consider volunteering HERE, and every dollar helps. Mahalo for your support. Please check back with us for next month's update!
Mahalo for your support!
______________________________________________________________________________
WHAT DO THESE NUMBERS MEAN?
Number of Calls – What does this mean? These are calls our hotline operators answer about any species in any situation. Whether it is a monk seal on the beach, a sea turtle of concern in the water, or a seabird that needs help. HMAR answers the calls that are made to the NOAA's marine wildlife number for Oʻahu and Molokai and we take calls from the public, from the police, fire department, Ocean Safety as well as State of Hawaii agencies. Any call that comes into our hotline is reported here. Some calls result in a field response but many are valuable for animal sightings information or other data that can assist in research. Since our start in 2016, we've handled over 57,000 hotline contacts.
Number of Field Support Actions – What does this mean? This is when HMAR sends volunteer or staff resources into the field to perform a variety of actions in support of marine protected animals including Hawaiian monk seals, sea turtles, sea birds, dolphins, and whales. Since our start in 2016, we have had volunteers or staff in the field over 24,500 times.
Number of Rescues, Interventions, Stranding Responses and Escalated Field Actions – What does this mean? This number includes any field response that goes above and beyond a typical resting monk seal response. This includes responding to a seal of concern, an entangled, hooked, or injured sea turtle, a seabird in need of medical support, and other situations. Since 2016, we have performed over 2,115 of these operations.
Marine Debris Work – Each week our marine debris team removes underwater entanglement hazards (net, line, hooks) from high fishing pressure areas to reduce animal entanglements, hookings, injuries and death of protected marine animals. Since we started our underwater removal activities, our Marine Debris Program (MDP) has removed more than 4,250 animal hazards, cleaned over 265 acres of underwater habitat, and we have collected many MILES of monofilament fishing line. Taking all of this debris out of underwater habitat helps save Hawaiian monk seals, sea turtles, and seabirds.
Number of People Reached through Face to Face Outreach – What does this mean? HMAR's different program activities put our volunteers and staff in direct contact with Hawaii's residents and visitors. Educating people about Hawaii's marine protected species and our ocean ecosystem is one of our highest priorities and has an important impact on reducing threats. This number includes outreach done on the beaches as well as the work our Education and Engagement team does going to classes and community outreach events. Since our start we've reached over 302,000 people.
Thank you for your continued support!