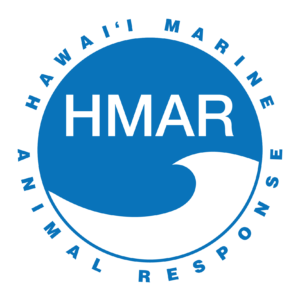 MONTHLY HMAR UPDATE: January 2023
Happy New Year to all! Hard to believe we're already a month into 2023. January kept us busy, so read on for some updates from HMAR!
Number of Contacts Made to HMAR Hotlines in January 2023 – 902 (about 30 a day)
These hotline contacts were broken out as 748 Hawaiian monk seal related, 126 sea turtle related, and 28 seabird related. Keep up the great work HMAR hotline operators!
Number of Field Support Actions in January 2023  – 263 (about 9 a day)
Our actions in the field last month were broken out as 251 Hawaiian monk seal related, 9 sea turtle related, and 3 seabird related. We responded in the field on the north side of Oʻahu 5 times, 50 times on the east side, 31 times on the south side, and 177 times on the west side of Oʻahu.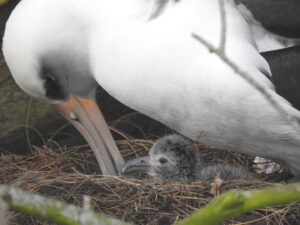 Last month was also busy with our field monitoring work at the albatross colony on the north shore! Every year, we help manage and monitor a colony of Laysan albatross on the North Shore of O'ahu and this month we had our first chicks hatch (see picture left). These chicks will be on or near the nests that their parents built until June or early July. Until then they will rely on their parents to bring them food. For now, the parents are rotating staying with the chick on the nest but in the next few weeks they will begin to stagger their timing more and more, leaving the chick to fend for itself for longer and longer periods of time before they fledge and leave the nest for the first time to find food for themselves!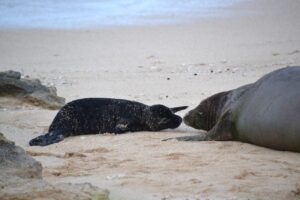 And there have been more babies born in January. We now have our first Hawaiian monk seal pup of the year (designated as PO1) on Oʻahu (see picture right)! At this time we are not releasing any additional information about the pup, its mom or the location of the animals. But, what we can tell you is that the seals seem to be doing well, and we will update you all with more information in the next few weeks so keep your eyes out for that!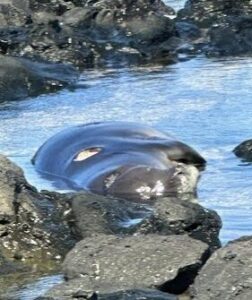 In other monk seal news, we've gotten reports of R604, who is an adult female that is visiting Oʻahu from Kauaʻi. She was spotted earlier this month with a softball sized injury to her shoulder – which we determined to be a cookie cutter shark bite (see picture left). Since that initial call we have gotten a few more observations from the public as well as photos that have helped us to determine that R604 is healing nicely. Cookie cutter shark bites are a very common occurrence with Hawaiian monk seals and are usually not life threatening. This is one of the many reasons why it is so important that if you see a seal, you call the hotline to let us know. You may have found a seal we are trying to locate and get more information on and we rely heavily on you all letting us know when we have seals out and about that may require a response. Thank you for your help! 
Number of Rescues, Interventions, Stranding Responses and Escalated Field Actions Conducted in January 2023 – 13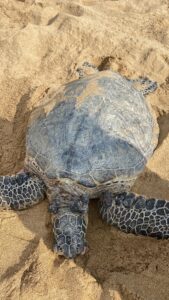 This month was pretty calm in terms of rescues, interventions, stranding responses and escalated field actions. We had 1 Hawaiian monk seal escalated field action, 9 sea turtle stranding responses, and 3 seabird field responses. This is less activity than our regular month (good news!) and this happens from time to time. However, we did have one sea turtle intervention we wanted to share with you all. About mid-way through the month we got several calls about a sea turtle in Makaha (see picture right). This turtle looked to be in good body condition and was likely basking but we mounted a field response to assess the animal. Our response included visual observations as well as assessments of energy level, mobility, and vision to ensure that the sea turtle did not require further assistance. This turtle passed our assessments with flying colors and was re-released in the area. Hawaiian green sea turtles can bask, or rest, on beaches for up to 48 hours, or even longer sometimes, before we get more concerned for their well-being. However, if you ever see a turtle you're concerned about, please give us a call. We can't respond to injured or sick animals if we don't know where they are and rely on public callers to let us know!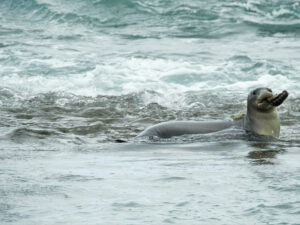 Our big escalated field action of the month was when Hawaiian monk seal RQ76 "Malama"  returned to O'ahu (see picture left)! Malama was born in June to RH76 "Kala". This was Kala's first time giving birth. After weaning Malama and Kala were both noted as being noticeably thinner than average. After some monitoring, our partners at NOAA decided the best course of action was to retrieve Malama and transport her to Hawai'i Island for care at The Marine Mammal Center's Ke Kai Ola (KKO) facility. RQ76 has been at KKO since August where they have been ensuring that she gains the weight she needs to survive on her own in the ocean. Since then she has gained 50 pounds and was given the "OK" for release at the end of January. Since her release we have been continuing to survey for her to monitor her progress in the wild! (Photo Credit: Marilynn Dunlap, NOAA Fisheries permit #24359)
Marine Debris – Great January Results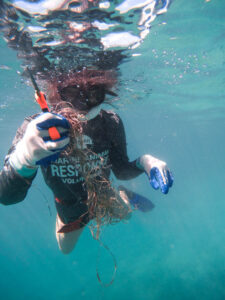 January was a productive month for our marine debris team. Our team completed 6 dives last month, cleaning just over 8 acres of underwater habitat used by Hawaiian monk seals and sea turtles. They collected 2,197 feet of monofilament line and 99 animal hazards! In addition we held a fitness test for new divers to join our team. Each one of our divers has to show their diving proficiency before they are able to join our team. We do this to ensure all our divers are safe while participating in our underwater clean-ups. This time 9 people passed their fitness test and are now able to join our MDP team. If you're interested in becoming a volunteer member of our marine debris team you can sign up HERE!
Number of People Reached Through Face to Face Outreach and Education in January 2023 – 2,221 people
With the school year ramping back up again we are back to presentations at local schools. Over the past month we have led 8 presentations to classes around the island and on the mainland about sea turtles, marine debris and Hawaiian monk seals. We're so excited for what the rest of the school year will bring! In February we are looking forward to working with Kahuku Elementary School to name Hawaiian monk seal pup "PO1" – so keep an eye out for that important announcement! 
Additional News & Updates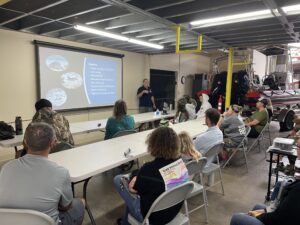 This month was full of training! We started off with new interns who go through a training process before starting their semester with HMAR. Our Field Support & Outreach (FSO) interns are often the ones you see on the beaches with Oʻahu's monk seals. This month we welcomed Ayla, Andrew, Cameron and Monty as new interns on the team who are joining our returning interns Sara and Alex! If you see them on the beach please be sure to say "Hi." These interns also participated in a Rescue & Stranding Response training where they learned about the proper techniques and protocols for dealing with injured or stranded sea turtles, sea birds and monk seals!
We also had a new volunteer orientation. These volunteers could be going into any one of our programs – from Field Support & Outreach (FSO), to Education & Engagement (EE), Operations Support OSP) or Marine Debris (MDP). Our FSO volunteers go through a multi-part process to complete their training which includes a 6-hour classroom day followed by 3 field days and a final exam. Our goal is always that our new volunteers are well trained before we send them out on their own! All our other programs have a separate training process that prepares volunteers for their work. If you're interested in becoming a volunteer we would love to have you join us! Head over HERE to learn more about our programs and to apply!
As always, we can't do the work we do without all of you! We rely heavily on donations to pay for gas, supplies, insurance, rent, truck maintenance, and all the other things we need to do our work. Marine animal response, rescue, and education is very rewarding but not inexpensive. If you want to support us, please donate or consider volunteering HERE, and every dollar helps. Mahalo for your support during 2022. Please check back with us for monthly updates during 2023!
Mahalo for your support!
______________________________________________________________________________
WHAT DO THESE NUMBERS MEAN?
Number of Calls – What does this mean? These are calls our hotline operators answer about any species in any situation. Whether it is a monk seal on the beach, a sea turtle of concern in the water, or a seabird that needs help. HMAR answers the calls that are made to the NOAA's marine wildlife number for Oahu and Molokai and we take calls from the public, from the police, fire department, Ocean Safety as well as State of Hawaii agencies. Any call that comes into our hotline is reported here. Some calls result in a field response but many are valuable for animal sightings information or other data that can assist in research. Since our start in 2016, we've handled over 56,000 hotline contacts.
Number of Field Support Actions – What does this mean? This is when HMAR sends volunteer or staff resources into the field to perform a variety of actions in support of marine protected animals including Hawaiian monk seals, sea turtles, sea birds, dolphins, and whales. Since our start in 2016, we have had volunteers or staff in the field over 24,000 times.
Number of Rescues, Interventions, Stranding Responses and Escalated Field Actions – What does this mean? This number includes any field response that goes above and beyond a typical resting monk seal response. This includes responding to a seal of concern, an entangled, hooked, or injured sea turtle, a seabird in need of medical support, and other situations. Since 2016, we have performed over 2,100 of these operations.
Marine Debris Work – Each week our marine debris team removes underwater entanglement hazards (net, line, hooks) from high fishing pressure areas to reduce animal entanglements, hookings, injuries and death of protected marine animals. Since we started our underwater removal activities, our Marine Debris Program (MDP) has removed more than 4,200 animal hazards, cleaned over 260 acres of underwater habitat, and we have collected many MILES of monofilament fishing line. Taking all of this debris out of underwater habitat helps save Hawaiian monk seals, sea turtles, and seabirds.
Number of People Reached through Face to Face Outreach – What does this mean? HMAR's different program activities put our volunteers and staff in direct contact with Hawaii's residents and visitors. Educating people about Hawaii's marine protected species and our ocean ecosystem is one of our highest priorities and has an important impact on reducing threats. This number includes outreach done on the beaches as well as the work our Education and Engagement team does going to classes and community outreach events. Since our start we've reached over 300,000 people.
Thank you for your continued support!