MONTHLY HMAR UPDATE: JULY 2022
July was wild! With a surprise pup born on Kaimana Beach in busy Waikiki Beach, and lots of field support, interventions, rescues, and education activities, we have bunches to tell you about the past few weeks! Read on to learn all about our July 2022 activity!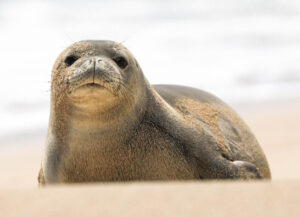 Number of Calls to HMAR – July total 542 (about 17 per day)
We received more calls this month than last with 431 calls relating to monk seals, 85 turtle calls and 26 seabird calls!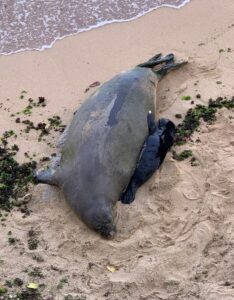 Number of Field Support Actions  – July total 323 (about 11 per day)
A lot of our field activities were on Kaimana Beach this month. On July 9th in the very early morning Hawaiian monk seal RH58 "Rocky" gave birth on Kaimana Beach in Waikiki to her 14th pup, PO8 (see picture left). Our volunteers, staff and interns have been on the beach each day since July 9th from 6am-8pm – thats 14 hours each day! We are now right around the half-way point for their time together on the beach. Sometime in August it will be time for Rocky to wean her pup and go out to forage. After that, PO8 will be on his own for the first time to learn how to forage! In other pupping news, PO6 and PO7 have both been weaned and gifted names – PO6 (now tagged as RQ76) was named "Malama" which means light, moon or month, and PO7 (tagged with roto tag "72") was named "Mahina" which means moon! To learn why these names were chosen, check out our post about it!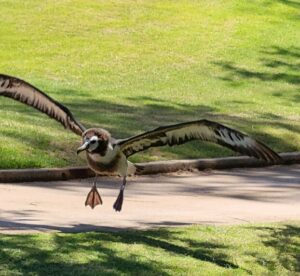 Our albatross team also finished their monitoring for the season at the end of the month when our chick fledged! (see picture right) Laysan albatross return to the islands each year in November to nest and the chicks hatch in February. When they are finally ready to leave the nest these chicks "fledge" meaning that they lose their down feathers to be replaced with the waterproof feathers that adults have, and they learn to fly. After that they are ready to go out to sea for the next few years!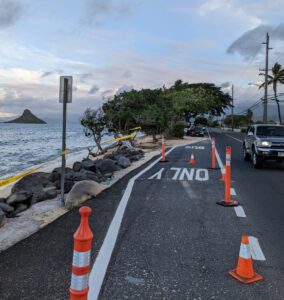 Number of Rescues, Interventions, Stranding Responses and Escalated Field Actions – July total 28 (that's almost 1 every day!)
This month was busy with important interventions and escalated field actions with Hawaiian monk seals – we had three major actions this month we want to share with you all.
In the late afternoon on the 4th of July we received a call about a seal in the road at Kualoa Beach (see picture left). Our team immediately responded along with the Honolulu Police Department (HPD) to check out the situation, where we found Hawaiian monk seal RK28 "KC" hanging out at the bus stop on the roadway (see picture left). A plan was made with NOAA's input and our staff on site was able to safely move KC off the road and into the water using crowding boards! A huge thanks to HPD who directed traffic for us to keep everyone safe during the intervention!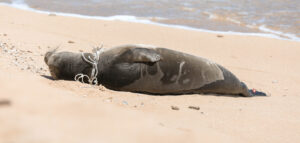 Later in the month we received a call from our partners at the U.S. Fish and Wildlife Service who had located the recently weaned Hawaiian monk seal RQ64 "Laki" who was reported with an entanglement around her neck (See picture right). Our staff was immediately dispatched to the location and notified NOAA who sent a team as well. Luckily we were able to locate Laki and we were able to assist NOAA in the intervention to remove the net from around her neck and release her. This was a stark reminder of why our marine debris work is so important to the survival of the species we work with. This is not the first time something like this has happened with one of our young seals and it probably won't be the last. You can do your part to help our marine debris team by participating in our citizen science project – "BEAT DEBRIS" – and pick up derelict fishing gear that you see while diving! Check out https://h-mar.org/debrisreport for more information!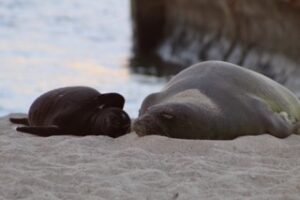 Our last major escalated field action for seals is one you have likely heard of by now. On Sunday morning, July 24th, at Kaimana Beach in Waikiki, Rocky and PO8 went for a morning swim over by the natatorium. When they returned to the other side of the beach where they had been sleeping, people began exiting the water. One woman was swimming within the confines of the safety perimeter that has been up since the pup was born. Rocky perceived this as a potential threat to her pup and began vocalizing and swimming towards the swimmer before lunging at the woman, leaving her with injuries to her face, arm and back. This interaction was an important reminder for us that we are not law enforcement or human safety officers. Our role on the beach is to educate the public about safe distances from monk seals as well as to provide information about the mom and pup. We hope that this interaction was also a good reminder to the public about why we give the advice to swim elsewhere when a monk seal mom with a pup are in the area.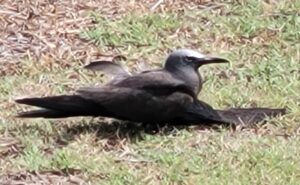 But, monk seal escalations weren't the only thing going on this month. We also had our sea turtles and seabirds to worry about! In addition to our 7 monk seal escalations we also had 14 turtle rescues and 7 seabird rescues! One example occurred near the end of the month. McKinley and Emily (two of our staff members) went out to Laie to rescue a downed Black Noddy. The bird had injuries to both wings (see picture right) but still put up a heck of a fight while being rescued in the rain! When responders arrived the bird had hidden itself in a naupaka bush and we had to wait for the bird to come out before it was safe to capture. Thankfully after a few minutes of prep and planning the bird was carefully and safely captured and brought in for veterinarian support and treatment!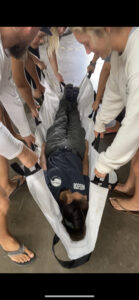 In addition to our rescues in the field, we also held a rescue clinic for our volunteers! During these clinics we teach our volunteers how to handle animals and our general protocols when responding to a rescue situation. We cover all of the animals our rescue team could potentially come in contact with: monk seals, sea turtles, seabirds and cetaceans (see picture left). Across all of our programs, our rescue operations require the most training and funding. Each volunteer, staff member and intern must be trained, prepared and equipped. We also have to purchase and maintain all of the necessary supplies. There is so much more going on behind the scenes than what happens in the field.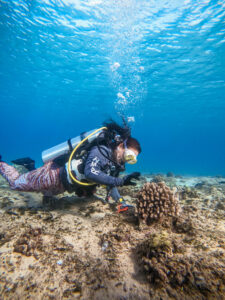 Marine Debris – More Excellent Results for July
Wow, July was big for our Marine Debris team! Over 6 dives our teams removed 13,178 feet of line, and 203 underwater animal hazards! In total they cleaned up 9.5 acres of underwater habitat on the south shore, west side and north shore of Oahu (see picture right)! Overall they collected 53.5 pounds of debris (most of which is lightweight and dangerous monofilament line and hooks!), the stuff that causes major injuries and deaths for monk seals, sea turtles, and seabirds. 
Number of People Reached Through Face to Face Outreach – July total 2,727 people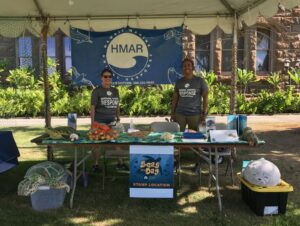 July was a busy month for our Education and Engagement team even though it's still summer! The largest event we participated in was the Bishop Museum's "Seas the Day" event (see picture right) which was an absolute blast for our volunteers! We talked to over 400 people, educating them about Hawaiian monk seals, sea turtles and their threats! We have also continued our usual outreach events at Waikiki Aquarium and are starting school presentations up again! If you are interested in having our Education team come to your classroom this fall – head to https://h-mar.org/education to fill out a request form!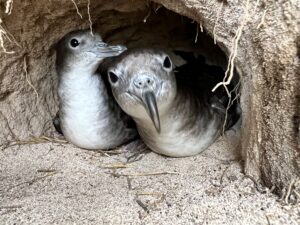 Additional News & Updates
In addition to our usual activities we also had some special events happen this month! 
The two wedge tailed shearwater seabird colonies that we manage were surveyed this month because the birds have started nesting! Our colony in Kahuku had over 500 birds nesting this year – which is a large increase from our numbers last year (see picture left)! This increase is a great example of how simple conservation efforts (like roping off an area for the birds to nest in, engaging with community members and government agencies) can make a big difference! We'll be back in September to find out how many of those burrows have chicks inside.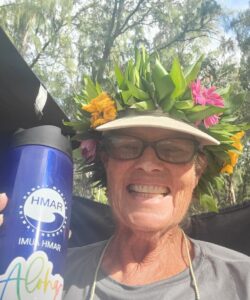 At the end of the month we celebrated our volunteers with our first volunteer potluck and meeting in over two years! It was great to see our volunteers that were able to come out as well as give awards and recognitions! We did a special thank you to Cindy Jenness (see picture right) who in just the past few years has worked over 12,000 hours with HMAR helping Hawaii's marine protected animals and the ocean! 
We also have a new opportunity for local college students to pursue – a stipend internship! If you have a background consistent with training, family history/activity, or personal experiences involving ocean health, sustainability, and responsible use and management of ocean resources. We are particularly looking to recruit from Hawaiian and other Pacific Islander communities. Check out https://h-mar.org/stipend-internship for more information!
We greatly appreciate your support of HMAR, we couldn't do what we do without you! If you would like to provide additional support, you can donate or volunteer today! In July, we kicked off a special fundraising campaign for a response truck. We can't do the work we do without our trucks, and we need another truck to take the load off our trucks that are getting old. You can donate today at https://gofund.me/a9fa074b or you can donate to our general fund at https://h-mar.org/get-involved/. That web page also brings you to our volunteer application page, and we are always looking for new volunteers! 
______________________________________________________________________________
WHAT DO THESE NUMBERS MEAN?
Number of Calls – What does this mean? These are calls our hotline operators answer about any species in any situation. Whether it is a monk seal on the beach, a sea turtle of concern in the water, or a seabird that needs help. HMAR answers the calls that are made to the NOAA's marine wildlife number for Oahu and Molokai and we take calls from the public, from the police, fire department, Ocean Safety as well as State of Hawaii agencies. Any call that comes into our hotline is reported here. Some calls result in a field response but many are valuable for animal sightings information or other data that can assist in research. Since our start in 2016, we've taken over 47,000 calls.
Number of Field Support Actions – What does this mean? This is when HMAR sends volunteer or staff resources into the field to perform a variety of actions in support of marine protected animals including Hawaiian monk seals, sea turtles, sea birds, dolphins, and whales. Since our start in 2016, we have had volunteers or staff in the field over 22,000 times.
Number of Rescues, Interventions, Stranding Responses and Escalated Field Actions – What does this mean? This number includes any field response that goes above and beyond a typical resting monk seal response. This includes responding to a seal of concern, an entangled, hooked, or injured sea turtle, a seabird in need of medical support, and other situations. Since 2016, we have performed over 1,800 of these actions.
Marine Debris Work – Each week our marine debris team removes underwater entanglement hazards (net, line, hooks) from high fishing pressure areas to reduce animal entanglements, hookings, injuries and death of protected marine animals. Since we started our underwater removal activities, our Marine Debris Program (MDP) has removed more than 3,000 animal hazards, cleaned over 200 acres of underwater habitat, and we have collected miles of monofilament fishing line. Taking all of this debris out of underwater habitat helps save Hawaiian monk seals, sea turtles, and seabirds.
Number of People Reached through Face to Face Outreach – What does this mean? HMAR's different program activities put our volunteers and staff in direct contact with Hawaii's residents and visitors. Educating people about Hawaii's marine protected species and our ocean ecosystem is one of our highest priorities and has an important impact on reducing threats. This number includes outreach done on the beaches as well as the work our Education and Engagement team does going to classes and community outreach events. Since our start we've reached over 275,000 people.
Thank you for your continued support!