MONTHLY HMAR UPDATE: June 2023
June was a big month for us, with many exciting as well as some devastating rescues and responses. Read on to learn all about it. 
Number of Contacts Made to HMAR Hotlines in June 2023 –  1,151
There were a total of 1,151 contacts made to HMAR hotlines in June. That was broken out as 905 contacts related to Hawaiian monk seals, 159 contacts related to sea turtles, 15 contacts related to seabirds, and 72 contacts for other reasons. Remember, most of our field activity is driven by information we receive from public callers. Please report all sightings of Hawaiian monk seals. And also report any sea turtle, seabird, dolphin or whale of concern. All calls can be made to the statewide marine wildlife hotline at (888) 256-9840.
Number of Field Support Actions Conducted in June 2023  – 328
HMAR field personnel were sent into the field a total of 328 times in June. This was broken out as 170 actions in the north section of Oʻahu, 35 actions in the east section, 81 actions in the southeast section, and 42 actions in the west section of Oʻahu.
So far this year, we've had 7 Hawaiian monk seal pups born on Oʻahu. All 7 of them have now been weaned by their mothers! We are still expecting a few more pups to be born on Oʻahu this year – so don't fret; pup season isn't necessarily over yet! Our last two seals to wean were PO6 and PO7, whose permanent IDs are now respectively RS08 and RS20! We will hopefully have names to announce for these two shortly.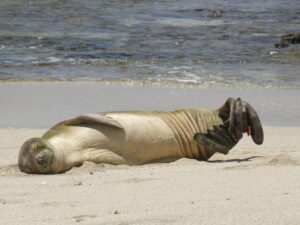 In other news, a few days before the end of the month we got a call about a seal on a secluded beach, and our volunteer arrived on site to discover that it was none other than RP96, Lōliʻi! We were thrilled to see him after almost two years (see picture left). His reappearance was a great reminder that although we may not see our seals every day, that doesn't mean that something bad has happened to them! This is particularly true for Hawaiian monk seals that live, or were released, in more remote locations. Remember, Hawaiian monk seals can travel hundreds and even a thousand miles or more within the Hawaiian Islands if they choose!
Number of Rescues, Interventions, Stranding Responses and Escalated Field Actions in June 2023 – 23
This was broken out as 1 operation for Hawaiian monk seals, 18 operations for sea turtles, and 4 operations for seabirds. We had a number of big rescues this month. Starting with our June turtles! 
We received a call about a turtle on Aliʻi Beach Park in Haleʻiwa that had a line entanglement as well as a crack in its carapace (see picture right). We arrived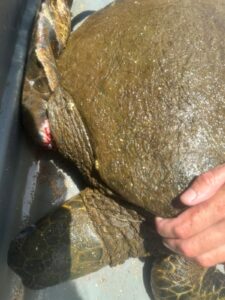 on site and decided that the turtle needed speedy transport for further care. The turtle was brought to partners on Maui and we wish this turtle a speedy and easy recovery!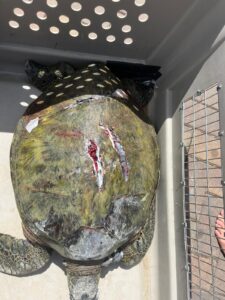 Towards the end of the month we got a call about a turtle in the Hawaiʻi Kai boat harbor that had been struck by a boat and had multiple injuries to its carapace (see picture left). We immediately responded. HMAR vessel resources were not nearby so with the help of a local boater, we were able to get out to the turtle and brought it aboard. We transported the turtle to NOAA's facility and we'll update you all if we get more information on it!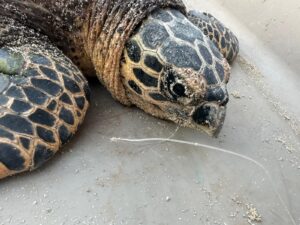 One of our favorite rescues this month was for a hawksbill turtle at Barbers Point. We don't see hawksbills (an endangered species) very frequently on Oʻahu as they don't nest here and are more frequently seen on Maui and the Big Island. When we received a call from a fisher stating that they had accidentally hooked a turtle and had brought it to shore, this is exactly what they should have done (see picture left)! If a fisher hooks a turtle they can call our hotline and we will advise them on the best thing to do and how to help the turtle. Because this fisher called us and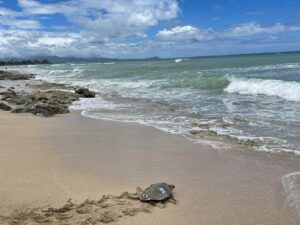 brought the turtle onto the beach we were able to quickly respond to the turtle and bring it in. NOAA was able to take some genealogical samples and give it a tag and it was able to be released the next day with no line (see picture right). Good luck out there, little guy!
Unfortunately, we also had the incredibly upsetting discovery of the deceased Hawaiian monk seal RS48 "Ho'omau Lehua". In the middle of the month, we got a call about a deceased seal on the north shore of Oʻahu. Unfortunately, it was Lehua who was born in February of this year (see picture left). Finding her was incredibly sad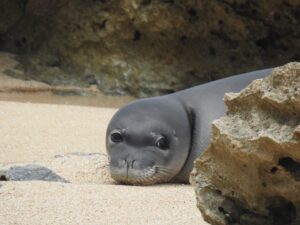 for our team since she had been seen only a few days prior, had looked fine, and had been monitored since she was born. At this time, NOAA is still in the process of completing a necropsy, however they have found that there was no sign of blunt force trauma. We are still waiting for more results which may take some time. Once we know more information, we will share it with you all on our social media. 
Marine Debris – Awesome Work
Last month we completed 3 marine debris removal dives. During those dives we collected 1,322 feet of monofilament line and 317 animal hazards! In addition, while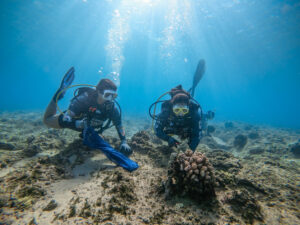 our "Rescue One" response boat was offshore near Ko Olina marina on a survey we found two abandoned drone fishing rigs in the area. We retrieved them and collected an additional 1,400 feet of monofilament line and 283 animal hazards. That's an average of over 700 feet of monofilament line on each drone fishing jug dangling free in the water with hooks attached and these could have posed a significant hazard to monk seals and sea turtles! 
Number of People Reached Through Face-to-Face Outreach and Education in June 2023 –  2,221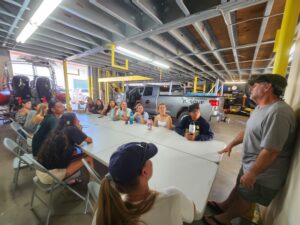 Last month we welcomed the UH Marine Mammal Research Program's summer intensive program students to our facility to discuss what we do, who we are, and to give them a tour of our facility (see picture left). We had a blast meeting these passionate students from around the state and telling them all about our view of the marine science world. SMMILE (Summer Marine Mammal Intensive Learning Experience) is an amazing program we have worked with for two years. They do fantastic work to educate and inspire future marine scientists! If you or someone you know is interested in working with marine mammals and you live in Hawaiʻi, definitely check out SMMILE next summer! Educational activity such as this and other scheduled outreach events like our regular efforts at Waikiki Aquarium and other venues allowed us to reach 290 people last month.
In addition to the outreach and educational activity we conducted in formal and scheduled settings, our team of field responders reached an additional 1,931 people with face-to-face outreach last month to improve the understanding of and support for our marine protected animals.
Additional News & Updates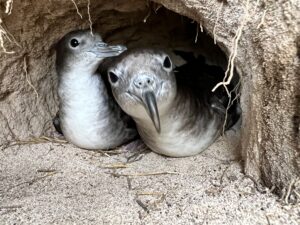 It's officially the start of our wedgetail shearwater (WTSH) seabird season! These birds leave our island from December to April or May to forage in the equatorial and southern Pacific Ocean. They return to the island each summer and fall to nest and rear their young. HMAR manages two colonies of WTSH on Oʻahu and each year surveys at both colonies are conducted twice to collect population data – once in June or July and once in October. We completed the initial survey of our Kailua colony last month! This colony is much smaller than our other colony and very densely packed within naupaka bushes. Because of this, we only survey the colony's perimeter so as not to crush any burrows. We will survey our Kahuku colony in the next few weeks, so stay tuned for our results!
In other news from June, local Hawaiʻi-based professional photographer Erik Kabik graciously donated several of his beautiful images of Hawaiian monk seals to really spiff up some of the walls in our Kailua facility. See our social posts for images and thanks go out to Erik for his wonderful donation!
Mahalo for your support!
______________________________________________________________________________
WHAT DO THESE NUMBERS MEAN?
Number of Calls – What does this mean? These are calls our hotline operators answer about any species in any situation. Whether it is a monk seal on the beach, a sea turtle of concern in the water, or a seabird that needs help. HMAR answers the calls that are made to the NOAA's marine wildlife number for Oʻahu and Molokai and we take calls from the public, from the police, fire department, Ocean Safety as well as State of Hawaii agencies. Any call that comes into our hotline is reported here. Some calls result in a field response but many are valuable for animal sightings information or other data that can assist in research. Since our start in 2016, we've handled over 61,000 hotline contacts.
Number of Field Support Actions – What does this mean? This is when HMAR sends volunteer or staff resources into the field to perform a variety of actions in support of marine protected animals including Hawaiian monk seals, sea turtles, sea birds, dolphins, and whales. Since our start in 2016, we have had volunteers or staff in the field over 26,500 times.
Number of Rescues, Interventions, Stranding Responses and Escalated Field Actions – What does this mean? This number includes any field response that goes above and beyond a typical resting monk seal response. This includes responding to a seal of concern, an entangled, hooked, or injured sea turtle, a seabird in need of medical support, and other situations. Since 2016, we have performed nearly 2,225 of these operations.
Marine Debris Work – Each week our marine debris team removes underwater entanglement hazards (net, line, hooks) from high fishing pressure areas to reduce animal entanglements, hookings, injuries and death of protected marine animals. Since we started our underwater removal activities, our Marine Debris Program (MDP) has removed more than 4,700 animal hazards, cleaned over 275 acres of underwater habitat, and we have collected many MILES of monofilament fishing line. Taking all of this debris out of underwater habitat helps save Hawaiian monk seals, sea turtles, and seabirds.
Number of People Reached through Face to Face Outreach – What does this mean? HMAR's different program activities put our volunteers and staff in direct contact with Hawaii's residents and visitors. Educating people about Hawaii's marine protected species and our ocean ecosystem is one of our highest priorities and has an important impact on reducing threats. This number includes outreach done on the beaches as well as the work our Education and Engagement team does going to classes and community outreach events. Since our start we've reached 312,000 people.
Thank you for your continued support!