MONTHLY HMAR UPDATE: March 2023
March was the month of turtles! We responded to quite a few sea turtles throughout the course of the month. Read on to learn more! 
Number of Contacts Made to HMAR Hotlines in March 2023 – 1,274 (about 43 a day)
In March there were a total of 1,274 contact made to our hotlines on Oʻahu. 979 of those were related to Hawaiian monk seals, 198 were related to sea turtles, 17 were related to seabirds, and 80 contacts were made concerning other topics.
Number of Field Support Actions Conducted in March 2023  – 385 (about 13 a day)
Welcome to the world PO2 and PO3! That's right, we have two new Hawaiian monk seal pups on Oʻahu! PO2 was born at the end of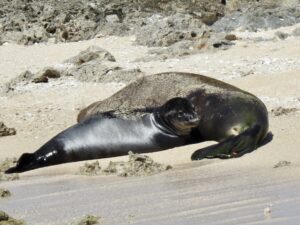 February, but we didn't want to announce the birth in our last monthly update and instead held off until more time had passed! PO2 was born February 23rd on the north shore of Oʻahu – mom Lei Ola (RH48) is also a first timer this year! So far everything has been going well! PO2 was officially given her name at the end of March by Hau'ula Elementary School. We would like to introduce you all to Ho'omau Lehua – meaning the enduring flower of the ʻŌhiʻa tree! Check out our recent social media post for more info about PO2ʻs name!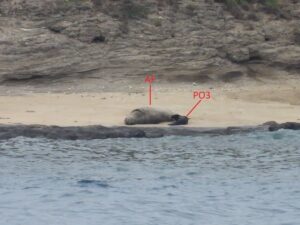 PO3 was born on March 23rd on an offshore island! So far mom and pup seem to be doing well and we are excited to see how things keep going for the pair. We should be having a number of other pups born on Oʻahu this year and we're excited to keep the updates coming for you all. 
Number of Rescues, Interventions, Stranding Responses and Escalated Field Actions in March 2023 – 27 (about one every day)
On March 15th we received a call from a concerned member of the public about a downed brown booby at Alan Davis beach. Once our team arrived on site the bird appeared to have a fishing hook embedded in its right wing. We were able to capture the bird and transport it to Feather and Fur animal hospital where it was further evaluated by veterinarians. 
On the 26th of March we received a call from two paddle boarders on the Haleiwa River. They had found a turtle with rope wrapped around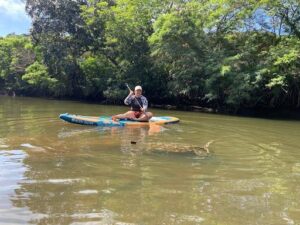 its front flipper and extending to a nearby tree. Our team got prepped with kayaks to transport the turtle down the river. We were lucky that Tsue's Farm let us launch our kayaks from their dock to retrieve the turtle. Unfortunately by the time we arrived someone had cut the turtle loose from the tree which made our job a little more difficult. The turtle was slowly swimming in the river, actively diving and moving around, but we could clearly see the rope entanglement and floater that the animal was carrying. Eventually we were able to use a net to retrieve the turtle and transport her down the river to our truck. Once we had her on dry land we saw that not only did he have the rope entanglement but she also had fishing line tightly wrapped around both front flippers – so she needed to see a veterinarian. So we made the journey to NOAA for her evaluation. We recently found out that she has been transported to our partner on Maui for further care! We hope to have more updates for you all in the coming weeks!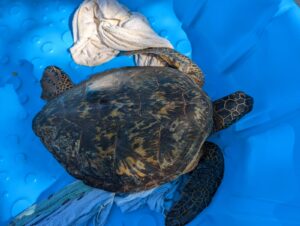 We also had two rescues of sea turtles at the HECO plant this month! Our first response was to a turtle with line wrapped tightly around its left front flipper. The flipper appeared swollen but we didn't see any sign of dead tissue, however the tightness of the line led us to decide to bring the turtle to a veterinarian for further examination. This turtle is now receiving further care on Maui as well. Our second HECO turtle response happened a few days later. The turtle was inside their intake pipe, thankfully the team at the plant was able to get the turtle out of the pipe and we could assess the animal. Thankfully the turtle was active, and in good body condition. We decided to release the turtle a ways down the road so it wouldn't return to the intake pipe. The second we released the turtle onto the sand it made a beeline for the water and swam off! 
Marine Debris – Great March Results
This month our MDP team completed three dives. Over these three dives we cleaned up a total of 27 pounds of debris over 5.2 acres. This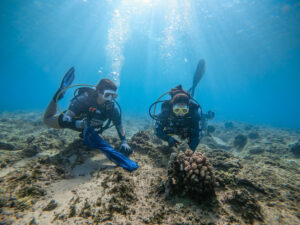 consisted of 2,077 feet of monofilament line, and 59 animal hazards. In addition to our cleanups we also announced our upcoming BEAT Debris contest! From April 1 to July 31st if you submit your debris report to h-mar.org/debrisreport you can be entered to win a dive shop gift card. Remember you can fill out a report no matter which island you live on! For more info check our social channels and h-mar.org/beatdebris.
Number of People Reached Through Face to Face Outreach and Education in March 2023 – 1,603 people
March was a continuation of all our typical education presentations – but we are starting to prepare for the Super Bowl of Environmentalism: Earth Day. April is going to be a whirlwind for our team. With 4 HUGE events over the course of a week we'll be busy busy busy. If you want to come see us while weʻre out an about, keep an eye on our Instagram stories!
Additional News & Updates
We had our second volunteer class of 2023 in March. We had about 15 people go through training this month and they have all since passed their exams! If you are interested in joining our volunteer team you can submit an application at h-mar.org/application. You can participate in our monk seal, marine debris, education or hotline programs! We will be having our next orientation on May 20th, 2023!
As always, we can't do the work we do without all of you! We rely heavily on donations to pay for gas, supplies, insurance, rent, truck maintenance, and all the other things we need to do our work. Marine animal response, rescue, and education is very rewarding but not inexpensive. If you want to support us, please donate or consider volunteering HERE, and every dollar helps. Mahalo for your support. Please check back with us for next month's update!
Mahalo for your support!
______________________________________________________________________________
WHAT DO THESE NUMBERS MEAN?
Number of Calls – What does this mean? These are calls our hotline operators answer about any species in any situation. Whether it is a monk seal on the beach, a sea turtle of concern in the water, or a seabird that needs help. HMAR answers the calls that are made to the NOAA's marine wildlife number for Oʻahu and Molokai and we take calls from the public, from the police, fire department, Ocean Safety as well as State of Hawaii agencies. Any call that comes into our hotline is reported here. Some calls result in a field response but many are valuable for animal sightings information or other data that can assist in research. Since our start in 2016, we've handled over 58,000 hotline contacts.
Number of Field Support Actions – What does this mean? This is when HMAR sends volunteer or staff resources into the field to perform a variety of actions in support of marine protected animals including Hawaiian monk seals, sea turtles, sea birds, dolphins, and whales. Since our start in 2016, we have had volunteers or staff in the field over 25,000 times.
Number of Rescues, Interventions, Stranding Responses and Escalated Field Actions – What does this mean? This number includes any field response that goes above and beyond a typical resting monk seal response. This includes responding to a seal of concern, an entangled, hooked, or injured sea turtle, a seabird in need of medical support, and other situations. Since 2016, we have performed over 2,145 of these operations.
Marine Debris Work – Each week our marine debris team removes underwater entanglement hazards (net, line, hooks) from high fishing pressure areas to reduce animal entanglements, hookings, injuries and death of protected marine animals. Since we started our underwater removal activities, our Marine Debris Program (MDP) has removed more than 4,300 animal hazards, cleaned over 270 acres of underwater habitat, and we have collected many MILES of monofilament fishing line. Taking all of this debris out of underwater habitat helps save Hawaiian monk seals, sea turtles, and seabirds.
Number of People Reached through Face to Face Outreach – What does this mean? HMAR's different program activities put our volunteers and staff in direct contact with Hawaii's residents and visitors. Educating people about Hawaii's marine protected species and our ocean ecosystem is one of our highest priorities and has an important impact on reducing threats. This number includes outreach done on the beaches as well as the work our Education and Engagement team does going to classes and community outreach events. Since our start we've reached over 303,000 people.
Thank you for your continued support!