MONTHLY HMAR UPDATE: MAY 2022
This is the first in a series of posts we will be doing monthly so we can give you all a better idea of what goes on each month here at HMAR! Every month here is different, but it's always busy in one way or another and we want to give you all the inside scoop! Our work each day is important to the conservation of Hawaii's marine protected species and we can't do what we do without you! So here's some of what we did in May 2022.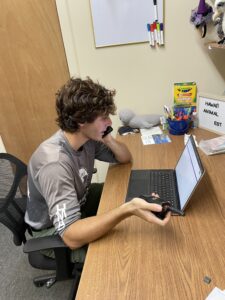 Number of Calls to HMAR – May = 499 (about 17 per day)
What does this mean? These are calls our hotline operators answer about any species in any situation. Whether it is a monk seal on the beach, a turtle of concern in the water, or a seabird that needs help. HMAR answers the calls that are made to the NOAA marine wildlife number for Oahu and Molokai and we take calls from the public, from the police, fire department, Ocean Safety and State of Hawaii agencies. Any call that comes into our hotline is reported in this number and all calls are answered by either HMAR staff, interns or our dedicated volunteers. Some calls result in a field response but many are valuable for animal sightings information or other data that can assist in research. These calls come in 7 days a week, 365 days a year, 12 hours a day and since our start in 2016, we've taken over 46,000 calls.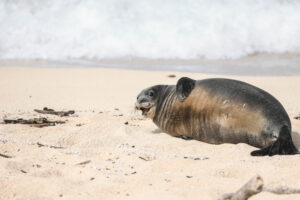 Instances of Field Support Actions – May = 294 (about 10 per day)
What does this mean? This is when HMAR sends a volunteer or staff resources into the field to perform a variety of actions in support of marine protected animals including Hawaiian monk seals, sea turtles, sea birds, dolphins, and whales. Since our start in 2016, we have had volunteers or staff in the field over 21,000 times!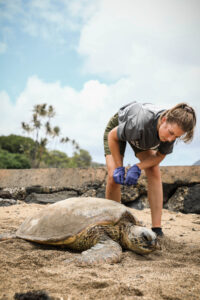 Number of Rescues, Interventions, Stranding Responses and Escalated Field Actions – May = 11 (about 3 per week)
What does this mean? This number includes any field response that goes above and beyond a typical resting monk seal response. This includes responding to a seal of concern, and entangled, hooked, or injured sea turtle, a seabird in need of medical support, a dolphin or whale of concern, and other situations. In May, there were fewer of these types of responses than we normally handle during a month on average, but that's a good thing! Since 2016, we have performed over 1,700 of these actions!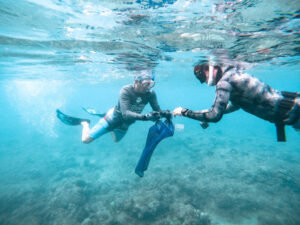 Marine Debris Activity – What does this include?
Each week our marine debris team removes underwater entanglement hazards (nets, line, hooks) from high fishing pressure areas to reduce animal entanglements, hookings, injuries and death of protected marine animals. Since we started our underwater removal activities, we've removed more than 3,000 animal hazards, cleaned over 180 underwater acres of habitat, and collected MANY MILES of monofilament fishing line. This month we collected 12 pounds of debris, which might not sound like a lot, but its over 500 feet of line and over 65 entanglement hazards! Our marine debris team dove 3 times this month in places like Electric Beach and Makai Pier. During their dives this month our volunteers saw monk seals, sea turtles, dolphins and sharks, plus so much more!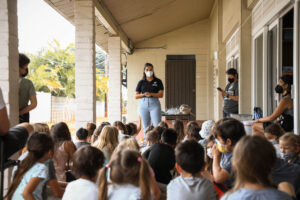 Number of People Reached Through Face to Face Outreach – May = 637
What does this mean? HMAR's different program activities put our volunteers and staff in direct contact with Hawaii's residents and visitors. Educating people about Hawaii's marine protected species and our ocean ecosystem is one of our highest priorities and has an important impact on reducing threats. This number includes outreach done on the beaches as well as the work our Education and Engagement team does going to classes and community outreach events. This is the number of people we have reached via face-to-face activity this month. Since our start we've reached over 270,000 people!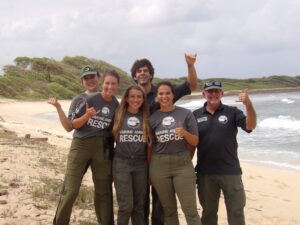 News & Updates – We have new members on our team! In February, we added McKinley Walter to our staff as a Field Support Technician and then in May we added two part-time seasonal employees, Anabel Cepero and Evelyn Macias – this means we now have 9 people on our staff team spanning the islands of Oahu and Molokai! In addition, during May three new volunteers completed their field training and joined our team. We continue to grow as does our ability to make a difference. We're so excited about the new additions to our team and the impact they will make!
We greatly appreciate your support of HMAR, we couldn't do what we do without you! If you would like to provide additional support, you can donate or volunteer today! We are currently fundraising for an additional field response truck so we can continue to do our work every day – you can donate today at https://gofund.me/a9fa074b or you can donate to our general fund at https://h-mar.org/get-involved/.
This link also takes you to our volunteer application page because we are always looking for great new volunteers!
Thank you for your continued support!