MONTHLY HMAR UPDATE: November 2022
Birds, birds and more birds! Here's what HMAR was up to in November across the spectrum of our work.
Number of Calls to HMAR – 596 (about 20 per day)
Our hotline operators were busy in November with 596 calls, that's almost double from the prior month! 301 calls were for Hawaiian monk seals, 62 calls were for sea turtles, and 233 calls were for seabirds.
Number of Field Support Actions  – 161 (about 4 each day)
Field support activity was conducted by HMAR volunteers and staff all over O'ahu: 5 times in the north, 23 in the east, 20 in the southeast, and 113 times on the west side.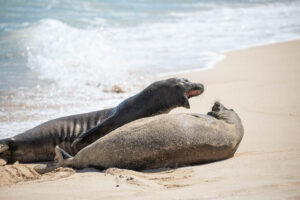 We spent a lot of time in Ko Olina last month! Some days we had up to four seals at the same spot at the same time. Although monk seals are typically solitary, sometimes we do have specific beaches that attract multiple seals at a time. Granted, because these seals are generally solitary, frequently there can be interactions (see picture left) between seals that are on beaches together, which we saw many times in November. 
Our Rescue & Stranding Response team participated in our annual seabird banding project conducted in partnership with the University of Hawai'i at a large shearwater colony that HMAR manages on the north shore. The goal is to band wedgetail shearwaters (ʻuaʻu kani) before they leave their burrows for the first time. This project helps monitor the population and activity of these wonderful seabirds.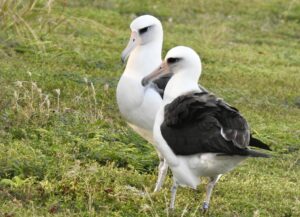 November also saw the start of our annual Laysan albatross (mōlī) monitoring efforts up at the colony we support in partnership with the U.S. Fish & Wildlife Service, the North Shore Community Land Trust, and the Turtle Bay Resort. So far we have identified and mapped 11 nests! Our volunteers and staff were super excited to get up there and get started looking for birds, they've seen a lot of returning pairs (see picture right) as well as some new birds to the colony. We can't wait to see what the rest of the season holds!
Number of Rescues, Interventions, Stranding Responses and Escalated Field Actions – 144  (more than 4 each day)
This critical part of our work was divided into all areas of O'ahu: 10 cases in the north, 34 in the east, 69 in the southeast, and 31 cases on the west side.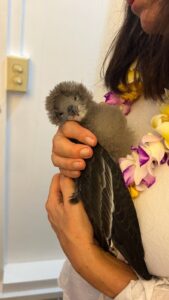 The back end of November marked the beginning of seabird fallout season – when young wedgetailed shearwaters leave their burrows for the first time after fledging (going from their downy chick feathers to their waterproof adult ones) and are meant to follow the light of the moon to find their way out to sea. Unfortunately artificial light like house and street lights can confuse these birds and turn them inland, eventually they become too tired to continue flying and land wherever they can to rest. However, a lot of the time they don't land in the safest spots, so our team goes out to rescue these birds (see picture left) and get them veterinary support from our friends at Feather and Fur Animal Hospital in Kailua for treatment and eventual release. In just the last two weeks of November, we intervened to help 133 seabirds.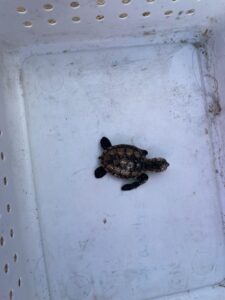 Of the total 144 escalated field actions in November, 10 were for sea turtles. At the beginning of the month we responded to two hawksbill sea turtle ('ea) hatchlings (see picture right) that washed up on the east side of O'ahu. These turtles, however, were not from O'ahu and they likely hatched on other islands to the east and southeast of O'ahu and got stuck in ocean currents and strong winds that brought them here to us! These young turtles hatch with limited energy stores to make the long journey out to the deep ocean, so when they show up on O'ahu we have to act fast. With "washbacks" as we call them, we usually transport them to the leeward shore, where we release them offshore into the ocean away from waves and where winds blowing out to sea give them a better chance of survival by pushing them in the right direction. Good luck little ones!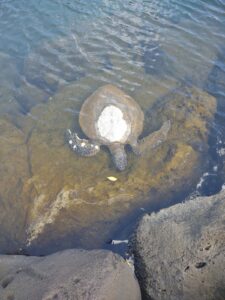 Last month we also conducted a rescue in Hale'iwa for a green sea turtle (honu) with fishing line tightly wrapped around its right fore flipper and we were concerned about the condition of the tissue (see picture left). We transported the turtle for veterinary evaluation and it was determined that the flipper had become necrotic and needed to be amputated.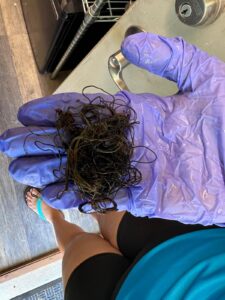 The sea turtle was sent to a partner facility on Maui for the procedure and the turtle also passed 1,425 centimeters of braided fishing line! (See picture right) This sea turtle's condition continues to improve so we're hoping for a full recovery and that we'll see this turtle back on O'ahu soon.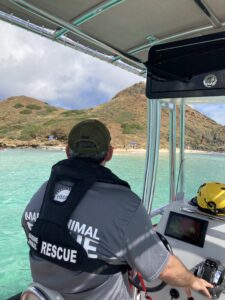 We also conducted an escalated field action for a monk seal last month. Following up on a report of a live monk seal pup being seen on Moku Nui island off of Lanikai, HMAR's Rescue 1 vessel (see picture right) was dispatched to conduct surveys from offshore while HMAR personnel searched the island on foot to look for a pup. None was found.
Remember, we rely on the public to notify us regarding marine protected animal activity. Please report ALL monk seals seen, as well as any sea turtles, seabirds, dolphins, or whales of concern to the statewide NOAA marine wildlife hotline at (888) 256-9840. On O'ahu and Molokai, HMAR will take your call.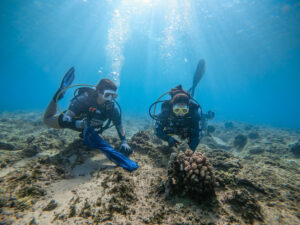 Marine Debris – More Great Results for November!
This month our marine debris team completed 5 dives. Over the course of the month they collected 877 feet of monofilament, 125 animal hazards and cleaned over 10 acres of underwater habitat! (see picture left) Our BEAT DEBRIS citizen-science competition is also still going strong through the end of December. In November, our citizen-science divers removed an additional 375 feet of line, 29 hooks and 63 fishing weights! Good job all!
If you've never heard of our BEAT DEBRIS citizen-science project, here's some info. If you are ever diving and collect derelict fishing gear, you can report it HERE to be entered to win a prize. Our current contest is going through the end of December and the winner will receive a $100 gift card from Aaron's Dive shop in Kailua!
In November, HMAR also hosted another clean up at Kakaako Beach Park with Aaron's Dive Shop and had a great time working with our partners and the community to clean up the area. Keep an eye on our social media for future cleanups.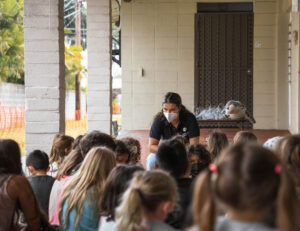 Number of People Reached Through Face to Face Outreach – 1,564
In November, we continued our focus on education in underrepresented and underserved communities. We finished our series of classes at Kahuku Elementary School and Waianae Intermediate School (see picture right). This semester we have gone to these schools multiple times to work with the same students and teachers on different topics in the marine conservation world. We are also in the process of finishing up this education series with Hau'ula Elementary School.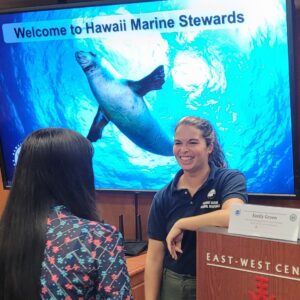 We also reached hundreds of other people on the shoreline as we conducted our regular ongoing field response and monitoring of Hawaiian monk seals on beaches.
In addition, we were honored in November to have been chosen by the East-West Center YSEALI Program to partner with them in providing important conservation education and certifying them as a Hawai'i Marine Steward. They can now carry and pass on critically important conservation information regarding Hawai'i's marine protected species and our ocean ecosystem. (See picture left). The Young Southeast Asian Leaders Initiative (YSEALI) is the United States government's signature leadership development program for Southeast Asian youth from ASEAN member countries (Brunei, Burma, Cambodia, Indonesia, Laos, Malaysia, Philippines, Singapore, Thailand, and Vietnam) and Timor-Leste.
Additional News & Updates
We are continuing to recruit for our spring semester internships. If you or someone you know is interested in marine conservation, head over HERE and check it out! We offer internships in field work, marine debris, education, media, and sea turtle nest monitoring. 
As always, we can't do the work we do without all of you! We rely heavily on public donations to pay for gas, supplies, staff, and all the other things we need to do our work. Marine animal response, rescue, and education is important work and is very rewarding but not inexpensive. If you want to support us, you can donate HERE, and every dollar helps.
As we enter December 2022, every one of us at HMAR wants to wish all of you a healthy and joyful holiday season.
Mahalo for your support in 2022!
______________________________________________________________________________
WHAT DO THESE NUMBERS MEAN?
Number of Calls – What does this mean? These are calls our hotline operators answer about any species in any situation. Whether it is a monk seal on the beach, a sea turtle of concern in the water, or a seabird that needs help. HMAR answers the calls that are made to the NOAA's marine wildlife number for Oahu and Molokai and we take calls from the public, from the police, fire department, Ocean Safety as well as State of Hawaii agencies. Any call that comes into our hotline is reported here. Some calls result in a field response but many are valuable for animal sightings information or other data that can assist in research. Since our start in 2016, we've taken nearly 50,000 calls.
Number of Field Support Actions – What does this mean? This is when HMAR sends volunteer or staff resources into the field to perform a variety of actions in support of marine protected animals including Hawaiian monk seals, sea turtles, sea birds, dolphins, and whales. Since our start in 2016, we have had volunteers or staff in the field over 22,500 times.
Number of Rescues, Interventions, Stranding Responses and Escalated Field Actions – What does this mean? This number includes any field response that goes above and beyond a typical resting monk seal response. This includes responding to a seal of concern, an entangled, hooked, or injured sea turtle, a seabird in need of medical support, and other situations. Since 2016, we have performed over 1,850 of these actions.
Marine Debris Work – Each week our marine debris team removes underwater entanglement hazards (net, line, hooks) from high fishing pressure areas to reduce animal entanglements, hookings, injuries and death of protected marine animals. Since we started our underwater removal activities, our Marine Debris Program (MDP) has removed more than 3,600 animal hazards, cleaned over 230 acres of underwater habitat, and we have collected many miles of monofilament fishing line. Taking all of this debris out of underwater habitat helps save Hawaiian monk seals, sea turtles, and seabirds.
Number of People Reached through Face to Face Outreach – What does this mean? HMAR's different program activities put our volunteers and staff in direct contact with Hawaii's residents and visitors. Educating people about Hawaii's marine protected species and our ocean ecosystem is one of our highest priorities and has an important impact on reducing threats. This number includes outreach done on the beaches as well as the work our Education and Engagement team does going to classes and community outreach events. Since our start we've reached nearly 300,000 people.
Thank you for your continued support!