MONTHLY HMAR UPDATE: October 2022
Check out what HMAR has been up to in October and a sneak peek of what's to come over the next month! 
Number of Calls to HMAR – 357 (about 12 per day)
Our hotline operators were busy this month, taking 357 calls! Of these, 268 were related to Hawaiian monk seals, 71 calls were for sea turtles, and there were 18 calls related to seabirds.
Number of Field Support Actions  Conducted by HMAR Personnel – 131 Total (about 4 each day) – divided by area of O'ahu as follows: 3 North, 45 East, 46 Southeast, and 37 on the West side of O'ahu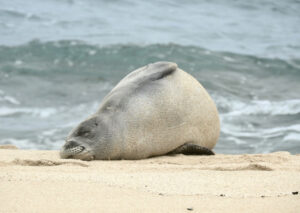 This month marked the official end of the 2022 pup season for us when our last pup of the year, RQ72 "Lehiwa," left her birth location (see picture left) for the first time to explore other parts of the island. This pup season has been long but incredibly rewarding, with six surviving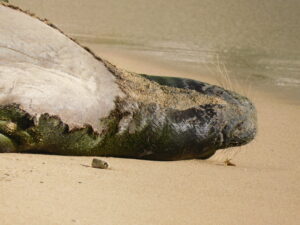 pups from April to September! And in just a few short months we will be back in the swing of the 2023 pup season! 
October has been marked by a ton of seal haul-outs! RH58 "Rocky" went through her annual molt (see picture right) after weaning her pup RQ58 "Koalani"in August and spent a lot of her time on the beaches of Waikiki. We also spent a lot of time with RL12 "Aukai" who has been regularly hanging out on the west side of the island!
We are continuing to opportunistically monitor R016 "Right Spot" and hope to have another update on her soon!
Now that it's October we are beginning preparations for seabird fallout season to really kick-in in November! If you haven't heard of fallout before, it is when young seabird chicks of certain species go from their fluffy down coats to the adult feathers, a process called fledging, and leave the nest for the first time. When they first leave to fly out to sea and forage, they instinctually follow the light of the moon. However, sometimes artificial human-caused light sources can distract and disorient these young birds and they fly inland instead. After some time they become too tired to continue flying and "fall out" of the sky, landing wherever they can to rest. But, where they land isn't always the best spot for them, including in the road, on people's lawns and everywhere in between. If over the next few months you see a young seabird that appears to have fallen out, please call the NOAA Marine Wildlife Hotline at 888-256-9840, we will come out, assess and carefully transport the bird for care if needed. To help ensure there are less artificial light sources to distract these young birds we also ask that you turn off outside lights and close your curtains at night from November to early January!
Number of Rescu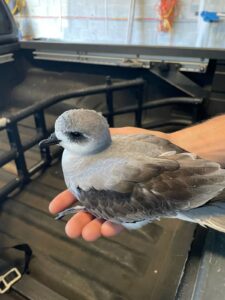 es, Interventions, Stranding Responses and Escalated Field Actions – 24 Total (that's almost one each day) – 3 in the North, 13 on the East side, 3 in the Southeast, 5 on the West side
This month, being the beginning of the fledging season, meant that we had a number of bird rescues, everything from wedge-tailed shearwaters to petrels and boobies (see picture left)! One of our most memorable rescues this month was of a red-footed booby in Waialua. We received a call that a woman had found a booby on the beach, unable to fly. She kept the bird in her care until responders were able to arrive, carefully assess the animal, and safely transport the bird to Feather & Fur Animal Hospital for care. This bird has since been sent to a rehab facility for further care and we hope for a full recovery soon!
October was a fairly slow month for sea turtle rescues (a good thing), but we did have a very interesting encounter on a Waikiki beach at the end of the month! A sea turtle was reported to us with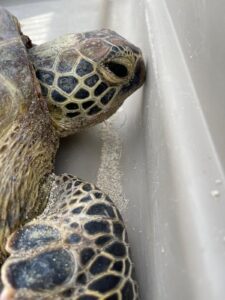 about 6 inches of line extending from its mouth (see picture right). We were able to immediately mobilize two members of our team to respond to the animal. Once on site they discovered that the sea turtle had ingested a whole lot more line than just a few inches, and with no hook in sight we were concerned that the turtle was potentially hooked in its esophagus or stomach. We immediately transported the turtle to NOAA for a more in-depth examination than we could provide on the beach. It was later found that this little fighter had thankfully not ingested a hook, but did pass about 50 inches of line! At this point, the turtle is doing well and we are hopeful for a full recovery. We'll update you if we have any more news.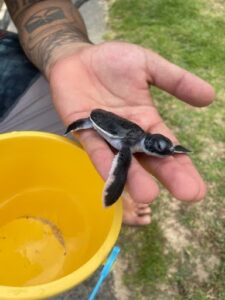 We had another sea turtle hatchling again this month (see picture left)! We got a report of a green sea turtle (honu) hatchling in Waimānalo – the little guy had decent energy levels but couldn't make it out past the breakers since the surf was so high. We often get these hatchlings during times when there are strong currents and the turtles cannot make it out past them, or they are carried to shore from a distant hatching location by winds and currents. We typically take these hatchlings to the west or southeast side of the island for release offshore so that they do not need to fight through the current to make it out to pelagic waters where they will be for the next 5-7 years. This hatchling was successfully released off of Electric Beach. Good luck little one!
Marine Debris – More Great Results in October!
For those who may not be aware, here is a bit about HMAR's unique Marine Debris Program (MDP) and our activity in October.
HMAR's MDP is unique in several important ways. First, we are the only organized marine debris program in Hawai'i that has won support from NOAA, the U.S. Fish & Wildlife Service, and the University of Hawai'i Sea Grant College. This means we've developed and adhere to extensive diving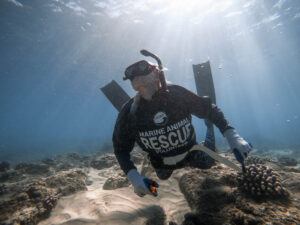 safety protocols and procedures for free diving (see picture right) and SCUBA diving, and produce documented results. We are focused on removing specific types of debris that injure and kill protected marine species like sea turtles, Hawaiian monk seals, and seabirds. That means we conduct in-water dives to collect hooks, fishing line, net material, and other hazards. We dive several times each month, often from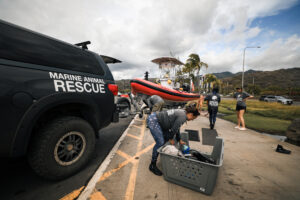 shoreline access points, but also from our HMAR Rescue 1 boat (see picture left) that allows us the flexibility to launch from any boat ramp, to get to our dive location quickly, and this enables us to get to places that traditional dive boats don't go. We dive on a scheduled basis, but because HMAR is a response and rescue organization, we also have the ability to quickly respond to reports of dangerous in-water debris and remove it before it can cause harm. An example of this is an in-water response we conducted in October to remove a dangerous mass of netting in Hanauma Bay where we frequently see sea turtles and Hawaiian monk seals (see picture right below).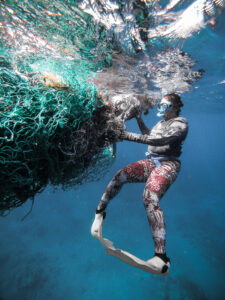 Here is a summary of our marine debris removal activity in October:
HMAR-lead debris removal dives conducted: 8

HMAR Beat Debris citizen science dives conducted: 8

Monofilament line removed: 3,461 ft

Net material removed: 1 floating net mass collected plus another submerged and derelict illegal throw net retrieved

Hooks removed: 1,289

Weights removed: 338

Animal hazards removed: 258

Number of underwater acres cleaned: 9.5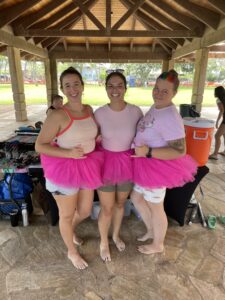 Number of People Reached Through Face to Face Outreach – 2,337
We had a number of Halloween events at the end of the month that were a big hit! We collaborated with Aaron's Dive Shop and KidZArt Windward to host a Halloween themed beach cleanup. It was wonderful to see returning clean-up crew members as well as new community members who joined us. The last two weekends of October we were also at Sea Life Park talking with lots of people about Hawai'i's marine protected species and how people can help them! Plus we got to dress up, play games, and do some trick or treating which was loads of fun! 
Additional News & Updates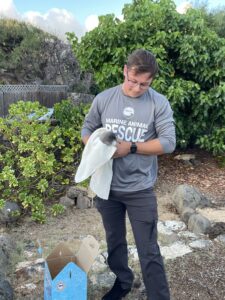 October was a month of training for both new and current volunteers! 
Our rescue volunteers and interns participated in a bird handling training this month with Dr. David Hyrenbach from our partners at Hawai'i Pacific University. They learned about the inʻs and outʻs of safely handling seabirds as well as important data and information to collect when we respond to deceased birds. This training is really all about ensuring that our volunteers are comfortable and careful handling seabirds. After this training, we are all set and ready for fallout season to begin!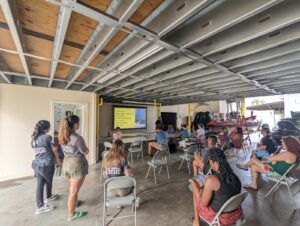 On October 15th we had our last new volunteer orientation of the year! We had 13 people attend and each of our 6 programs were represented! Training is always a lot of work for our staff, but we love welcoming new volunteers to our team and seeing them learn and grow! If you're interested in volunteering, you can learn about volunteer opportunities HERE. Our next volunteer orientation will be in January! 
As always, we can't do the work we do without all of you! We rely heavily on public donations to pay for gas, supplies, staff, and all the other things we need to do our work. Marine animal response, rescue, and education is rewarding but not inexpensive. If you want to support us, you can donate HERE, and every dollar helps.
Mahalo for your support!
______________________________________________________________________________
WHAT DO THESE NUMBERS MEAN?
Number of Calls – What does this mean? These are calls our hotline operators answer about any species in any situation. Whether it is a monk seal on the beach, a sea turtle of concern in the water, or a seabird that needs help. HMAR answers the calls that are made to the NOAA's marine wildlife number for Oahu and Molokai and we take calls from the public, from the police, fire department, Ocean Safety as well as State of Hawaii agencies. Any call that comes into our hotline is reported here. Some calls result in a field response but many are valuable for animal sightings information or other data that can assist in research. Since our start in 2016, we've taken nearly 50,000 calls.
Number of Field Support Actions – What does this mean? This is when HMAR sends volunteer or staff resources into the field to perform a variety of actions in support of marine protected animals including Hawaiian monk seals, sea turtles, sea birds, dolphins, and whales. Since our start in 2016, we have had volunteers or staff in the field over 22,500 times.
Number of Rescues, Interventions, Stranding Responses and Escalated Field Actions – What does this mean? This number includes any field response that goes above and beyond a typical resting monk seal response. This includes responding to a seal of concern, an entangled, hooked, or injured sea turtle, a seabird in need of medical support, and other situations. Since 2016, we have performed over 1,850 of these actions.
Marine Debris Work – Each week our marine debris team removes underwater entanglement hazards (net, line, hooks) from high fishing pressure areas to reduce animal entanglements, hookings, injuries and death of protected marine animals. Since we started our underwater removal activities, our Marine Debris Program (MDP) has removed more than 3,600 animal hazards, cleaned over 230 acres of underwater habitat, and we have collected many miles of monofilament fishing line. Taking all of this debris out of underwater habitat helps save Hawaiian monk seals, sea turtles, and seabirds.
Number of People Reached through Face to Face Outreach – What does this mean? HMAR's different program activities put our volunteers and staff in direct contact with Hawaii's residents and visitors. Educating people about Hawaii's marine protected species and our ocean ecosystem is one of our highest priorities and has an important impact on reducing threats. This number includes outreach done on the beaches as well as the work our Education and Engagement team does going to classes and community outreach events. Since our start we've reached nearly 300,000 people.
Thank you for your continued support!