MONTHLY HMAR UPDATE: May 2023
HMAR UPDATE: MAY 2023
Spring has sprung and pup season is in full swing! Read on to learn more about HMAR's May operations!
Number of Contacts Made to HMAR Hotlines in May 2023 –  1,267 (about 40 a day)
This was broken out as 978 contacts for Hawaiian monk seals, 186 contacts for sea turtles, 24 for seabirds, and 79 for other issues or questions.
Number of Field Support Actions Conducted in May 2023  – 501  (about 16 a day)
This was broken out as 179  actions conducted in the north section of Oʻahu, 9  actions conducted in the east section, 300 actions in the southeast section, 13 actions in the west section of Oʻahu, and 0 actions on Molokai..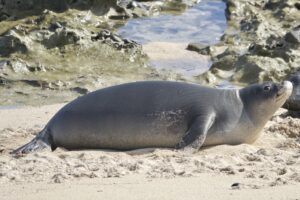 Last month we continued to support and monitor RK96 "Kaʻiwi" and her pup PO5 "Pualani" on Kaimana Beach. Pualani was gifted her name by Waikīkī Elementary School's kindergarten and 4th grade classes and was announced at the Kaimana Beach Hotel. Our work on Kaimana Beach has been incredibly rewarding, and it has now come to a close. On May 27th, Kaʻiwi departed Kaimana Beach, leaving Pualani on her own for the first time to learn to fend and forage for herself. In the days after weaning, Pualani was collected for relocation and moved to a more remote location where human interaction will be reduced and she will likely fall into the company of other monk seals. We are happy to announce that Pualani is doing well in her new home and has been adjusting to all the aspects of her new environment. We will be monitoring her progress over the next few months and will be providing updates when we can!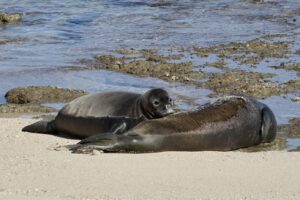 We also had two additional pups born last month to two of our sister seals on the same beach! They gave birth a few days apart and have been doing well so far. We'll continue to monitor these seals as well as they grow – and we should have names for them both soon!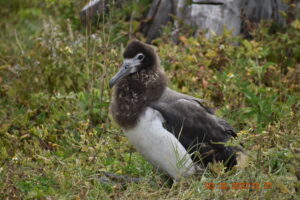 We are also coming to the close of our Laysan albatross season. Every year from November to July we monitor a colony of laysan albatross on Oʻahu's North Shore from mating to fledging and the time has almost come for the chicks to leave the nest! In the next month or so the chicks will lose their fluffy down coats and "fledge" into having adult feathers. The completion of this process means that the chicks are ready to go out to sea and forage on their own for the first time. Right now, the chicks are starting the process and getting their wings stronger by doing practice flying!
Number of Rescues, Interventions, Stranding Responses and Escalated Field Actions in May 2023 – 27
This was broken out as 4 operations for monk seals, 16 operations for sea turtles, and 7 operations for seabirds.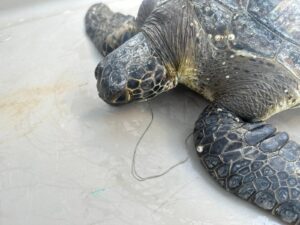 On May 13th our team received a phone call from a concerned citizen about an entangled sea turtle at Iroquois Point. Unfortunately the public caller had attempted to cut the line before we were able to arrive. Outreach was provided to the caller about the importance of allowing the experts to do a full assessment of the animal before deciding whether it is safe to disentangle the animal or not. Once we arrived on site we were able to determine that the turtle had ingested line and therefore needed to be transported for additional care.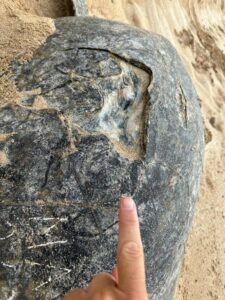 A few months ago we gave you all an update on MA260, an adult female green sea turtle that we rescued in January of 2022 and was released back on Oʻahu a few months ago (If you want more information check out our 2022 Year In Review and February 2023 blog posts). She was seen again on the north shore of Oʻahu a number of times this month and continues to do well and heal. We're excited for the opportunity to continue to monitor her progress!
Remember, if you see a marine protected animal of concern, please do not attempt to intervene. This can be dangerous for you, can result in further problems for the animal, does not allow us to conduct a proper assessment and examination of the animal, and likely constitutes a violation of federal and state laws. What is most important is that you call the statewide marine animal hotline at (888) 256-9840 as quickly as possible, provide photos, and detailed GPS or location information. Your quick and detailed contact will allow us to determine the best action to take and allows us to dispatch trained and permitted responders as needed.
Marine Debris – New Programs and Projects!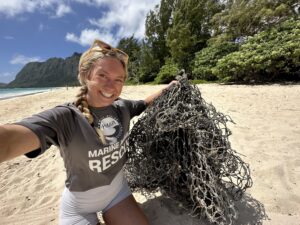 This month we completed a total of 3 dives. During those dives we collected 367 feet of monofilament and 122 animal hazards! We also retrieved a derelict net on shore in Waimānalo which was the first net recovery under our new contract with the State of Hawaiʻi Division of Aquatic Resources (DAR) and their Marine Debris Rapid Response Program. The net was recovered by Jace, one of our Marine Support Technicians, and it is currently at our facility for processing! We're excited to continue down the path of large onshore debris recovery with our partners at DAR! 
Number of People Reached Through Face to Face Outreach and Education in May 2023 –  1,327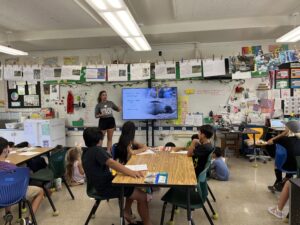 Our Education team did a number of fun and interesting presentations this month! One of our favorite educational activities is helping school kids name monk seal pups. Last month we worked with Waikīkī Elementary to name PO5 on Kaimana Beach. After a lot of work and dedication the students landed on Pualani, or heavenly flower, for PO5's name. The students who named Pualani were in kindergarten and the 4th grade. They worked together to find the perfect name!
We also did a presentation with the Honolulu Rotary Club on sentinel species! Never heard of a sentinel species before? These are animals that can be used by scientists to understand changes going on in the environment that may someday impact humans. Monk seals, sea turtles and seabirds are all sentinel species in Hawaiʻi! 
In addition to the people reached through educational presentations and other community events, our Field Support & Outreach team reached several thousand additional people through our field response activity.
Additional News & Updates
May was a busy onboarding month! We have new employees, interns and volunteers to introduce! We filled an additional Marine Support Technician position and would like to introduce Clara Orr! Clara is a recent University of Hawaiʻi at Mānoa graduate who studied Marine Biology. She is joining Jace and Anabel as the team members organizing our marine debris and on-water marine operations programs. Welcome aboard Clara! 
We also onboarded 9 new interns and 5 new volunteers this month. Our summer internship is now in full swing and this group will be with us until mid-August. These interns will be working in our Field Support & Outreach (FSO) program as well as supporting our rescue responses as well. Our new volunteers also completed their training this month and we're so excited to have a new group. Our next new volunteer training will be on July 1st so if youʻre interested in applying please visit h-mar.org/application for more information. We are also beginning the process of interviewing for our fall internship. You can learn more about our volunteer and internship programs at h-mar.org/jointheteam! 
Mahalo for your support!
______________________________________________________________________________
WHAT DO THESE NUMBERS MEAN?
Number of Calls – What does this mean? These are calls our hotline operators answer about any species in any situation. Whether it is a monk seal on the beach, a sea turtle of concern in the water, or a seabird that needs help. HMAR answers the calls that are made to the NOAA's marine wildlife number for Oʻahu and Molokai and we take calls from the public, from the police, fire department, Ocean Safety as well as State of Hawaii agencies. Any call that comes into our hotline is reported here. Some calls result in a field response but many are valuable for animal sightings information or other data that can assist in research. Since our start in 2016, we've handled over 60,000 hotline contacts.
Number of Field Support Actions – What does this mean? This is when HMAR sends volunteer or staff resources into the field to perform a variety of actions in support of marine protected animals including Hawaiian monk seals, sea turtles, sea birds, dolphins, and whales. Since our start in 2016, we have had volunteers or staff in the field over 26,000 times.
Number of Rescues, Interventions, Stranding Responses and Escalated Field Actions – What does this mean? This number includes any field response that goes above and beyond a typical resting monk seal response. This includes responding to a seal of concern, an entangled, hooked, or injured sea turtle, a seabird in need of medical support, and other situations. Since 2016, we have performed nearly 2,200 of these operations.
Marine Debris Work – Each week our marine debris team removes underwater entanglement hazards (net, line, hooks) from high fishing pressure areas to reduce animal entanglements, hookings, injuries and death of protected marine animals. Since we started our underwater removal activities, our Marine Debris Program (MDP) has removed more than 4,400 animal hazards, cleaned over 270 acres of underwater habitat, and we have collected many MILES of monofilament fishing line. Taking all of this debris out of underwater habitat helps save Hawaiian monk seals, sea turtles, and seabirds.
Number of People Reached through Face to Face Outreach – What does this mean? HMAR's different program activities put our volunteers and staff in direct contact with Hawaii's residents and visitors. Educating people about Hawaii's marine protected species and our ocean ecosystem is one of our highest priorities and has an important impact on reducing threats. This number includes outreach done on the beaches as well as the work our Education and Engagement team does going to classes and community outreach events. Since our start we've reached 310,000 people.
Thank you for your continued support!